Although my life is seriously chaotic right now (more about that later), I found time to make Amelia a new skirt. The tulle wasn't interested in hiding underneath in this skirt. It wanted to come out and play!
If there's any interest in a tutorial, let me know! :D
(Update: There is interest - I'm working on a tutorial!)
Bow available in my Etsy shoppe
! I think "shoppe" is much more sophisticated than "shop." Non?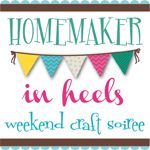 Shared at
I Heart Naptime
Shared at
Mommy By Day Crafter By Night